First, the soup was excellent! I ended up subbing fresh bacon for the bacon bits, adding some chicken stock and putting in more cream so that I had a bigger batch! Much thanks to
Roz
for the recipe! Secondly, I took Farley from
Wine Outlook
's advice and paired it with a Rose because it was the "fruitiest" wine I had on hand and it seemed the recommendations were leaning toward that (both
Cooking Chat
and El Jefe from
El Bloggo Torcido
suggested fruity reds). We have plenty of leftovers though so I will try it with some of the other suggestions, I just need to get to the wine store. My picture doesn't look as pretty as Roz's, but you'll have to excuse me since our light went out in the kitchen and we were working by candleligh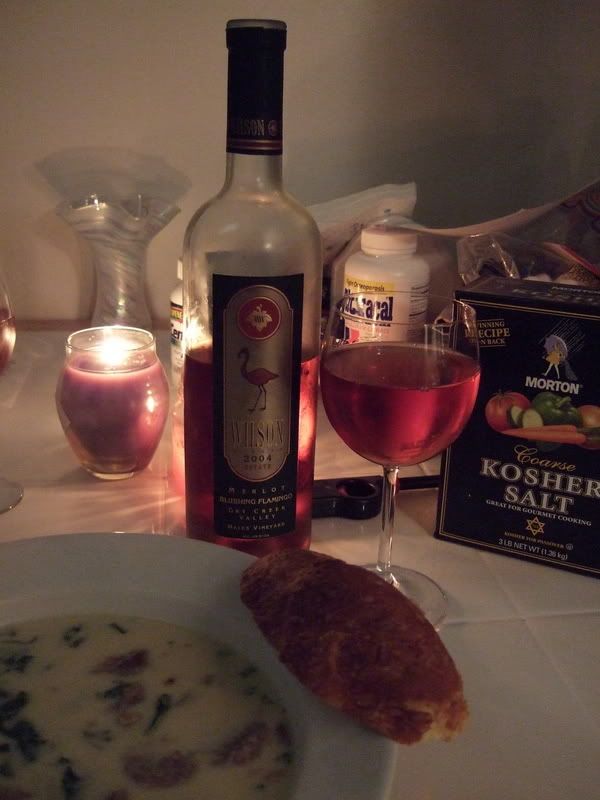 t.
The bottle I chose was a 2004 Wilson Winery Merlot Blushing Flamingo. We picked this up at Wilson Winery on our trip this summer. The bottom picture was taken overlooking their vineyard. This was a sharp, dry rose, quite different from many of the sweet ones I am used to and much different from the one we consumed a little later last night.
At 14% alcohol, this is no small wine; it also had a real cork closure. It paired really well with the creamy soup and th
e spicy sausage, thanks Farley! Strawberries on the nose and in the mouth, with melon and oddly enough a hint of lime. An interesting rose, we have a bottle or two more hanging around. I'm sure it makes a great summer wine (though it may as well have been summer here with temps nearly in the 70s!