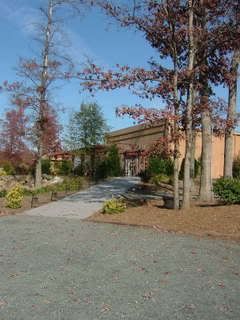 We ventured into Northern Virginia wine country last weekend and stopped at 4 vineyards in the Leesburg area. Our third stop of the day was
Lost Creek Vineyards
.
We tasted 5 wines here. They were sold out of several others already, which was disappointing, I wanted to taste their Spring Time wine which I have heard good things about. Perhaps next vintage.
Lost Creek has a large tasting bar, which was great considering the crowd that arrived after us. We decided to stop for a light lunch while visiting and the staff was very accomodating. They make bread on site, so we had hot fresh bread, cheddar cheese and a summer sausage with a glass of Rose each. The staff brought us out two carving boards, napkins and a knife and delivered our bread to our little table. Very nice. We enjoyed our visit and this should be a great place to visit in the summer, the terrace looked inviting.
They charge a tasting fee, but it is refunded with a bottle purchase. We took home a bottle of the Rose and drank it tonight. I paired it with pasta and tomato sauce I made this weekend. A rose wouldn't normally be my choice for tomato sauce, but, it was chilled, so why not?
The pasta sauce actually helped this wine by giving it a bit of a tart finish. My first sip was before I ate and I smelled candied fruit. I tasted very sweet raspberries and overripe strawberries. Very very sweet. After the sauce, the finish was a little tart and was easier for me to drink. Not a bad wine, but a little too sweet for me. My husband likes it a lot.